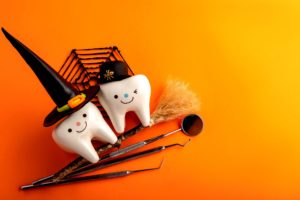 Did you know that October is Dental Hygiene Awareness Month? It often gets missed due to all the excitement over fall leaves and Halloween costumes. With the many autumn treats and candies available, there's really no better time to share information about how to properly tend to your teeth. You wouldn't want all that sugar causing cavities, after all! Keep reading to learn 3 steps that should be part of everyone's daily dental hygiene routine, so you can keep your mouth healthy and happy this season!
Step #1: Brushing
Brushing your teeth is one of the best preventative measures you can take to keep them in prime condition. It rids your pearly whites of plaque buildup and bacteria that can cause tooth decay and gum disease if left to thrive. You should plan to brush your teeth twice every day- once in the morning and again before bed at night. Each session should last for about 2 minutes. It can be helpful to brush with fluoride toothpaste because the active ingredients fight cavities and restore your enamel.
Here are some helpful tips to ensure you're brushing effectively:
Keep your toothbrush at a 45-degree angle towards your gums.
Gently move the brush back and forth in short strokes.
Brush all the outer surfaces of your teeth.
Adjust the toothbrush vertically and brush along the inner surfaces.
Finish by brushing your tongue.
Step #2: Flossing
Many people figure they can skip flossing because they regularly and thoroughly brush their teeth. You're running a risk if you leave it out, though! Harmful microbes can gather in places your toothbrush can't reach, like between your teeth or below your gumline. This can cause gingivitis or tooth decay, both of which can progress into more dangerous conditions. Flossing ensures that you're keeping your pearly whites as clean as possible!
Step #3: Rinsing
Unfortunately, brushing and flossing won't keep germs out of other spaces in your mouth. That means swishing with mouthwash should also be included in your daily oral healthcare routine! Consider it the final step after you've brushed and flossed. You can opt for an antimicrobial rinse to disinfect any unwanted bacteria and keep your breath fresh.
Many unpleasant dental health concerns, like periodontitis and root canals, can be avoided by implementing this basic routine every day. Soon your teeth will be in tip-top condition so you can enjoy your favorite fall treats knowing your smile won't suffer in the least!
About the Author
Dr. Sean M. Altenbach offers a wide range of dental services ranging from basic checkups and cleanings all the way through more complicated procedures. He earned a bachelor's degree in human nutrition at the University of Florida, followed by his dental degree. No matter the condition of your smile, he can help improve both your health and appearance! If you'd like to schedule an appointment, you are welcome to request one on our website or by calling (904) 448-0441.